Is Your Engagement Ring One Of The Big Three?
Choosing which engagement ring you will propose with and ultimately wear forever is a hefty personal decision that includes many factors— what's trending around the time you get engaged, your budget, if you have existing jewelry you are incorporating, and different engagement ring styles you are drawn to. At Scott & Co. Fine Jewelers, we find most couples enjoy looking at the most popular engagement ring settings and styles before picking out or designing their own engagement ring. Often they will fall in love with one of the more popular styles— and if not, it at least tells us what they 
don't 
like!
Our family-owned jewelry store in New Oxford, PA, has been helping local couples say "yes!" since February 2000. It is our mission is to be South Central Pennsylvania's premier jeweler and diamond destination. Today, we are sharing that passion by highlighting the top engagement ring settings and styles that we see today's brides loving. If you are already engaged or married, is your engagement ring style one of the big three? 
Big Three Trending Engagement Ring Settings and Styles

1. Solitaire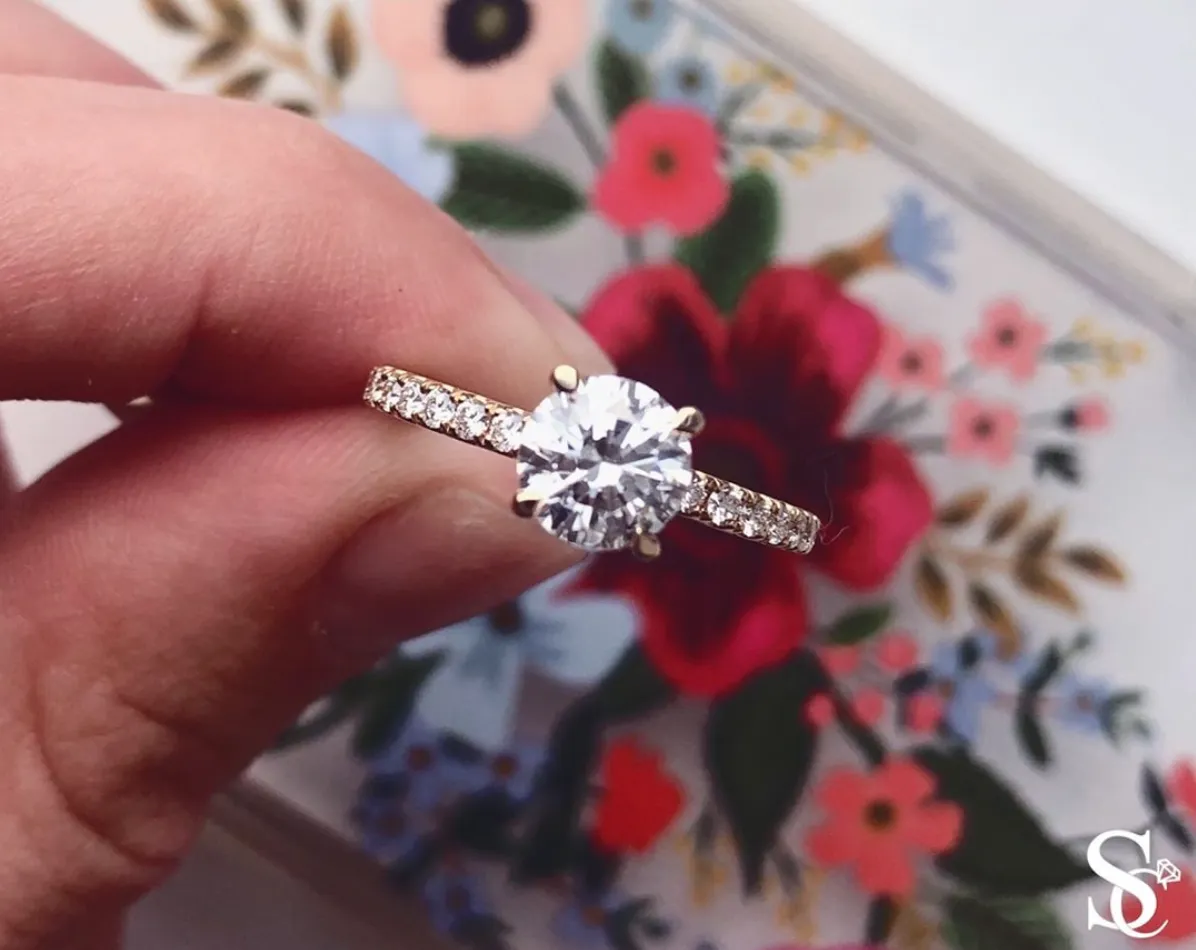 Solitaire engagement rings showcase the dazzling beauty of a single diamond or gemstone. If you are looking for a classic, traditional engagement ring that radiates elegance and simplicity, a solitaire engagement ring might be right for you.
In a solitaire engagement ring, the diamond takes center stage, unlike a halo engagement ring or three-stone engagement ring. This engagement ring style is typically paired with a prong setting to maximize the sparkle.
Many couples are surprised to learn that a solitaire engagement ring setting can work with any diamond shape— from round to pear to heart! With a single center diamond, this ring style is a classic choice that never go out of style.
2. Halo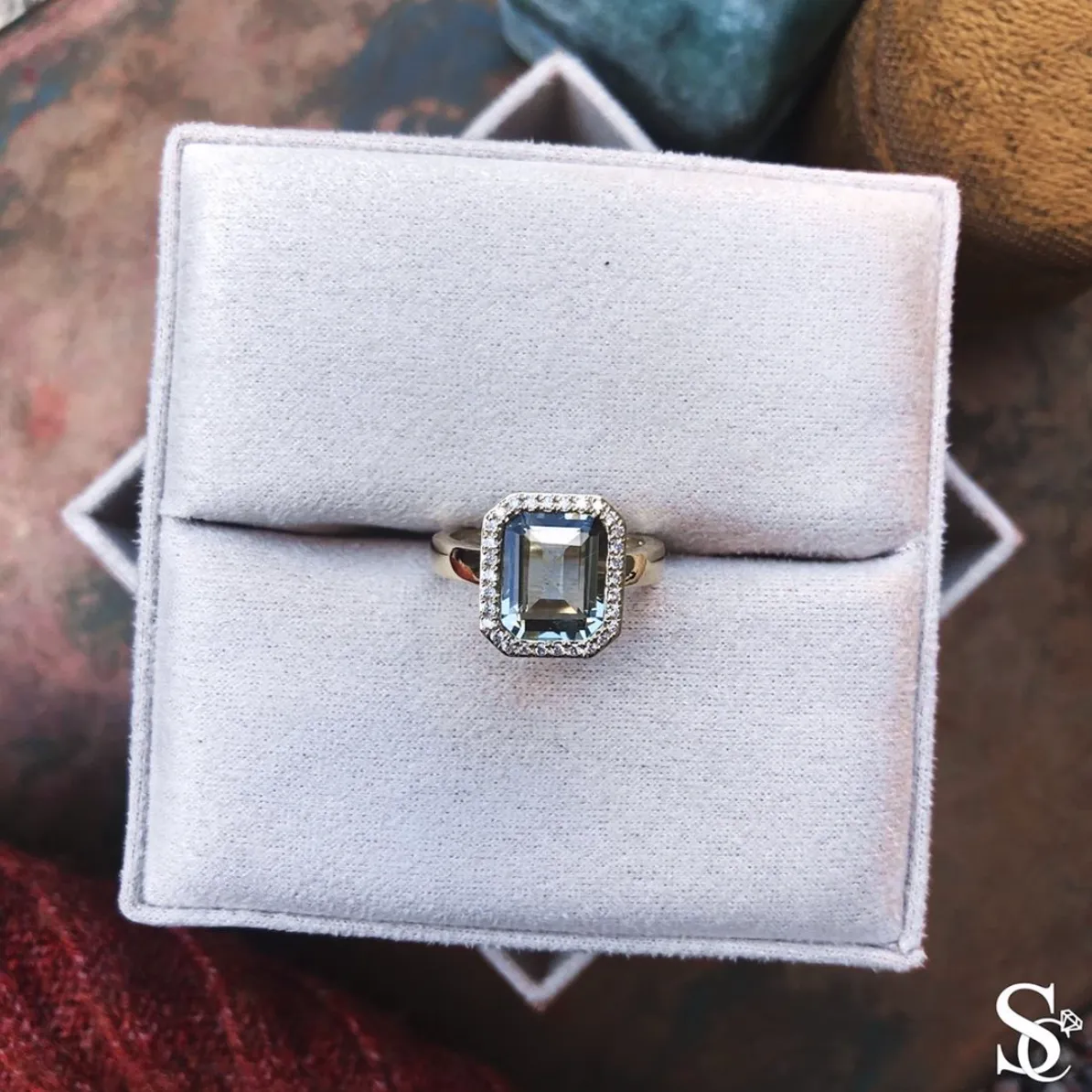 A halo engagement ring features a halo of smaller diamonds surrounding a larger center diamond. Unlike a solitaire engagement ring that showcases a single diamond, the halo engagement ring style pulls out all the stops to shine. This style can accommodate any diamond shape— working well with everything from emerald to pear to heart shape stones! Halos even flatter three-stone engagement rings, adding an irresistible appeal we can't get enough of.
Halo engagement rings are perfect for brides looking for a romantic, classic look. This engagement ring style is perfect for anyone wanting to maximize their center diamond— even making it appear a much larger carat size than it actually is. 
If you are attracted to styles with maximum sparkle and a classic appeal, this style might be right for you.
3. Three-Stone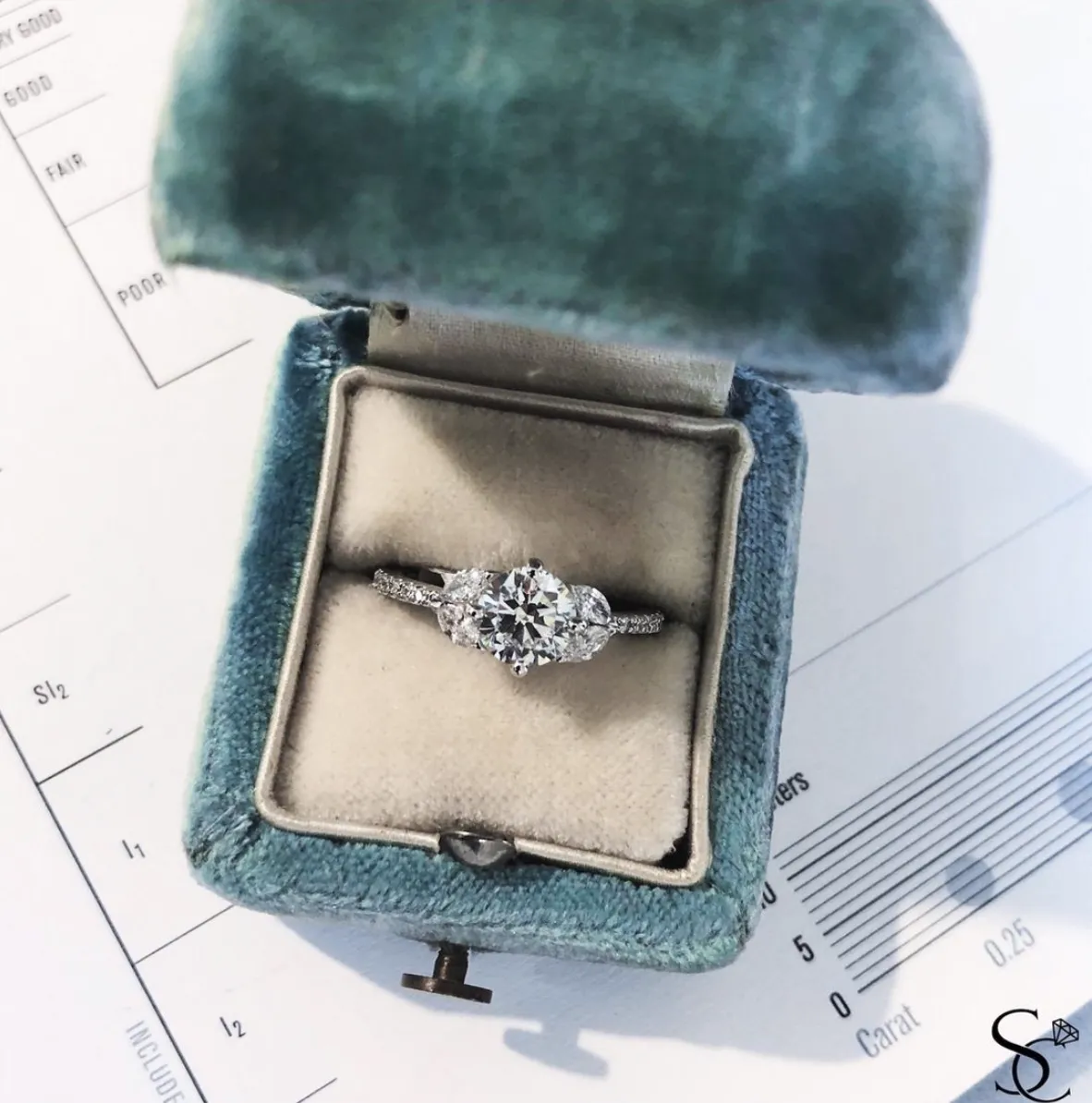 If honoring your past, present, and future is important, a three stone engagement ring might be right for you. This style is a meaningful style to choose to celebrate your love story for all that it was yesterday, all that it is today, and all that it will be tomorrow. The three stones in this setting are also known to symbolize friendship, love and fidelity. Three stone engagement rings are also commonly known as trilogy or trinity rings.
Unlike a solitaire engagement ring with one main diamond or gemstone, three stone engagement rings feature three main stones, which can all be the same size or cascading.
Your three-stone engagement ring can take form in all shapes, sizes, colors, and gemstones. The options of customizing your dream ring are endless— meaning your engagement ring can truly be as unique as your own love story.
Make It Your Own With Custom Design
Anything is possible when you custom design your dream engagement ring. We are experts in custom designed jewelry and can help you bring your vision to life. Feel free to browse our past projects 
here
 and then contact us to start your custom project today!
"We had a wonderful experience at Scott & Company when shopping for an Anniversary Ring! Scott's expertise helped us out when we weren't sure what we wanted. He suggested a design that incorporated my wedding ring with a stunning 30th anniversary band! Love it!" — Wendy H. on Google
---